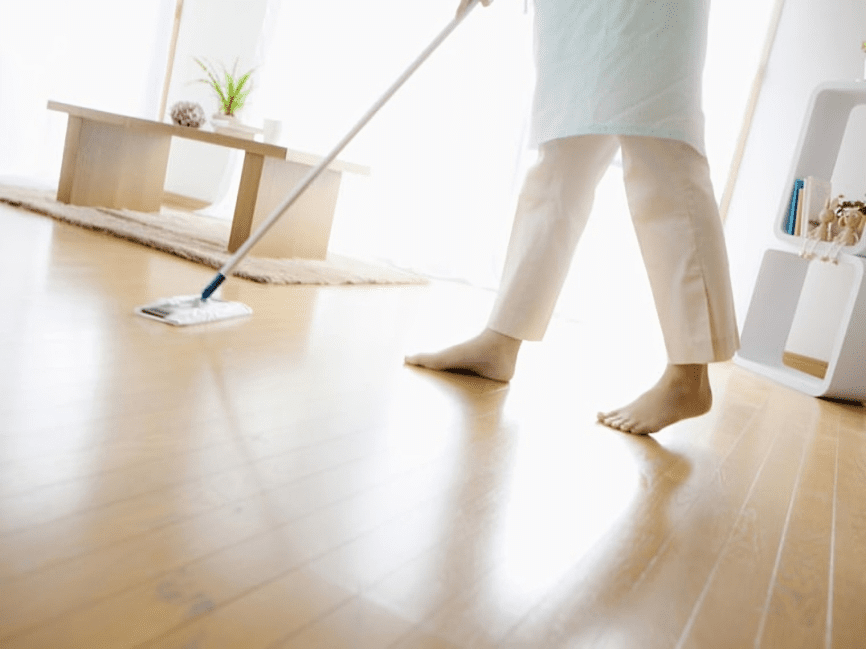 How do I clean my wood floors, what products should I NOT use?
Before we discuss our preferred and non-preferred cleaning products, let's go over some wood floor maintenance basics. First, in an ideal world, we want everyone to take their shoes off, upon entering. Your shoes hold on to a lot of undesirable things that need to get cleaned off before walking on your wood floors. Second, door mats at all the entrances, so we can wipe the dirt, small pebbles and debris off our shoes (assuming we are not taking them off). Third, we want to vacuum as often as necessary to help remove the dirt and debris that could potentially damage your wood floors. We love stick vacuums, standard upright vacuums are just fine, make sure the beater bar is not hitting the floor or use the hardwood floor setting.
There is a TON of BAD information on this topic. You may hear some things you do not like here, so take a deep breath! First, let get this out of the way…There are many companies that have more marketing dollars than quality hardwood flooring knowledge. Over the past 21 years we have seen most of these products below, perform poorly for our clients. Here are products that we do NOT recommend, and we will tell you why:
Orange Glo wood floor polish – Leaves and undesirable film on the wood floors that makes maintaining/cleaning your wood floors very difficult.
Bona polish – This seems to be the most common "cleaner" that clients are misled to believe will serve them best. This is actually thin layer of finish that you are applying to your wood floors, where over time, it builds up and scratches easily. Do not use this product!
Mop and Glo – This leaves a film or residue over prolonged use and is not a recommended cleaner.
Wood (furniture) polish like Pledge or Old English – These products will leave your floor extremely slippery, and leave a undesirable film layer on your floors, that is difficult to remove.
Pine Sol – This also leave a residue on the wood floors that is difficult to remove.
Rejuvenate: Similar to Mop and Glo and Bona polish, it will leave an undesirable film layer on your wood floors.
Steam Mops – Wood and water do not mix. Especially hot steam being forces into the wood fibers. This will absolutely shorten the life of your wood floors, along with causing cloudiness, dark spots, peeling and cracking of your wood floor finish. Use it on tile and stone, not wood.
Dish soap – Save it for your dishes.
Vinegar – Not the worst cleaning agent, in fact probably the best one mentioned here, if used in moderation. Some think the acidity could be harmful over the long run. We like to dilute the solution of water to vinegar, 10:1 respectively. We also recommend drying the floor after cleaning with cotton towels.
Ammonia – Ammonia will dull, discolor and deteriorate your wood floor finish.
String or Sponge mops – These introduce way too much water into your wood floors. Most of the time the water is let to sit on top of the wood floors, slowly breaking down the finish and drastically reducing the life of your wood floors. If this must be done, thoroughly wipe down the wood floors with a cotton towel, as opposed to letting them air dry.
Now let's talk about some great wood floor cleaning products, warning, there are not a lot.
Bona Hardwood Floor Cleaner: This product is designed for wood floors and is one of the industry standards as far as wood floor maintenance. This product comes in a spray or concentrate. This company also manufactures wood floor finish that is used all over the world. Great product for long term usage.
Basic Coating's Squeeky Cleaner: This is a product we use when doing buff and coats or maintenance coats for clients. This is the product we use in our own home too. Made by Basic Coatings who also manufactures a great line of finishes for wood floor professionals, this is one of the best. Comes in a spray bottle or concentrate.
Swiffer for wood floors: Great product and easy to use. Change the cleaning pad often and this cleaner should serve you well.
Water: Sometimes it is all you need, just make sure to dry them. Less is more when it comes to cleaning wood floors.
One popular product we did not recommend is Murphy's Oil Soap. We have found if diluted enough, this cleaner isn't that bad, most issue arise when people clean the floors often and do it at a higher concentration. When this happens, it will dull the finish and leave a film residue over time, that is difficult to remove, because of this we tend to not recommend this product.